Tel : +258 8486 30714

General Enquiries

alna@jaysbeachlodge.co.za

Reservations Booking Enquiries
For an unforgettable holiday experience, stop in at Jays Beach Lodge and campsite, a self Catering tourist holiday destination 40 kilometers north of Maputo, also known as Jay's Camp.

Jays Beach Lodge is a rustic and quiet holiday resort, situated on the island of Macaneta, 40km north of Maputo.

Chalets and camping sites just behind the dunes, meters away from the snow white sandy beach and beautiful sea.

For day visitors there are picnic sites with BBQ facilities, a Bar and Restaurant in a beautiful garden.
ACCOMMODATION
Chalets and Rondawels

All accommodation has electricity and are equipped with a fridge/freezer and necessary utensils.

Chalets :

two rooms
bathroom
open plan area
sleeps 6 to 7
BBQ and food preparation room outside.

Rondavels :

two rooms
on-suite bathroom
sleeps 4 to 5
BBQ and food preparation room outside.

Campsites

Campsites have running water and BBQ's.
Some have thatched shaded umbrellas and all very close to the beach.
Ablutions have electric lighting and hot and cold water.
No power points on camp sites yet.

Day visitors

Day visitors

Bring you own picnic basket a blanket or two and have some fun with you loved ones under trees or order lunch from the Bar Restaurant.

BBQ's and charcoal available.

Volleyball court for the energetic.
DIRECTIONS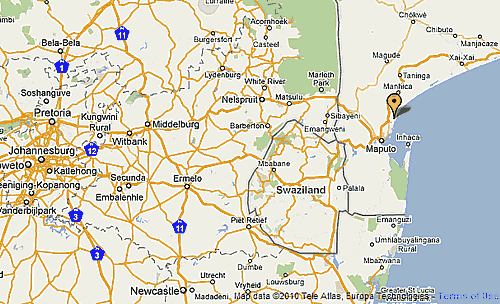 TARIFFS
TAKE NOTE:
Pricing are in MZM - Mozambican Meticais. To covert to Rands divide with current rate of exchange.

Day visitors:
200.00MZM per car if you do not use the Bar/Restaurant facilities, otherwise free.
Campsites:
275MZM per person per night. Children under 12 1/2 price. Power additional 200 MZM per day if required.
December holidays and other peak seasons:
minimum 1100 MZM per campsite per night.
Chalets:
700 MZN per person per night Children under 12 1/2 price.
December holidays and other peak seasons minimum:
2 Bed Chalet - 1400 MZM per night.
4 Bed Chalet - 2800 MZM per night.
6 Bed Chalet - 4200 MZM per night.
8 Bed Chalet - 5600 MZM per night.

For quotations in Rand or other currencies, please mail reservations@jaysbeachlodge.co.za.

Jays Beach Lodge, affordable Mozambique accommodation, Mozambique self catering, Mozambique camping, Macaneta Accommodation, Macaneta self Catering Accommodation, Macaneta chalets, Mozambique self catering chalets, Mozambique chalets
Jays Beach Lodge, affordable Mozambique accommodation, Mozambique self catering, Mozambique camping, Macaneta Accommodation, Macaneta self Catering Accommodation, Macaneta chalets, Mozambique self catering chalets, Mozambique chalets
WEB DESIGN AND HOSTING BY UQH - www.ultraquickhost.com
©Ultra Quick Host ®UQH
It is illegal to copy or reproduce any information or images contained in this website without written application and subsequent permission from Ultra Quick Host