O Lar Do Ouro Guest Lodge
Price 1.8 million. Excludes land & buildings.
Price including Land & Buildings ZAR 4.8million
Successful guest lodge situated in the valley of Ponta over the hill from campsite and on right hand side of road leading to lighthouse. The lodge has been owner managed and trading for 11 years. The lodge can sleep up to 30 people and has a swimming pool , all rooms en-suite and air conditioned. Great way to enjoy life while you work! A minimum 5 year rental agreement would be entered into, with options. The land & buildings are also up for sale so contact us to discuss. We are open to negotiation. All serious buyers will be required to sign a confidentiality agreement.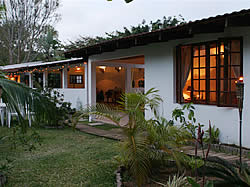 Janice Hellyer
Ponta Do Ouro, Mozambique

Tel:
+258 21650038/845740213
Website:
E-mail: